Every week, Park n Party fields hundreds of phone calls covering a wide variety of topics.  One of the most frequent questions is, "Why should I reserve a parking spot ahead of time"?
Three of the first five 2016 Michigan home games were significantly impacted by weather conditions.  These conditions lead to parking closures at lots surrounding the Big House.  In fact, the 2016 University of Michigan football season has turned out to be a textbook example of why fans should reserve their parking and tailgate spaces with Park n Party before the game day.
This past week (Michigan vs. Wisconsin), both Ann Arbor Golf & Outing Club and the University of Michigan Golf Course were forced to close or seriously restrict game day parking and tailgating.  Other lots around Ann Arbor also reduced the number of available parking and tailgate spaces.  The result, last week's game made it crystal clear to thousands of Michigan football fans  heading to the Wisconsin game that you takes your chances if you don't have a parking reservation!
Friday afternoon, Ann Arbor Golf and Outing Club made the decision to restrict game day parking to club members, season pass holders, and Park n Party reservations.  Soon after, the University of Michigan Athletic Department made the difficult decision to restrict tailgating and parking on its golf course.  Pioneer High School was affected by the rainy weather as well.  In the blink of an eye, thousands of game day parking spots and tailgate spaces disappeared for the biggest game of the 2016 University of Michigan football season!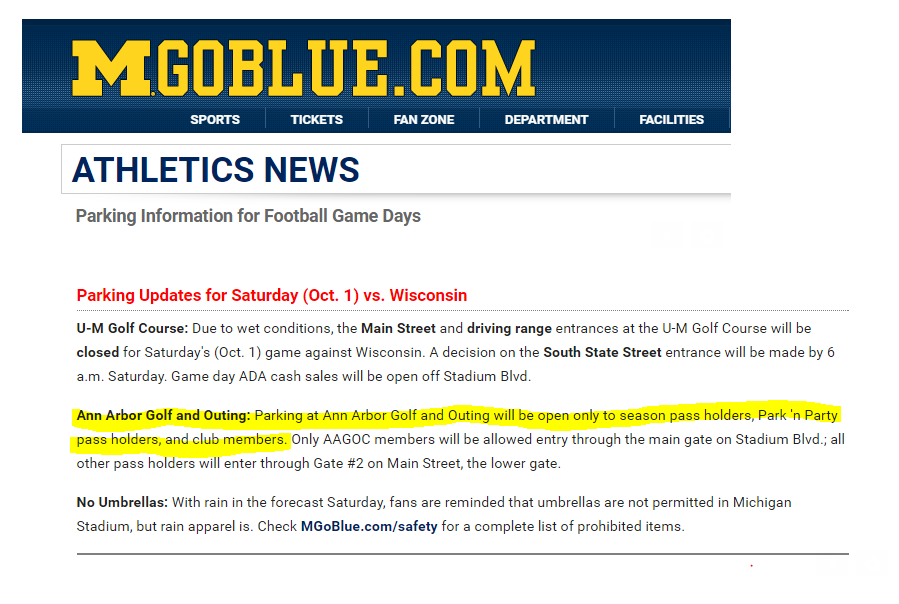 By early Friday evening, Park n Party sold out its entire inventory of parking spots and tailgate spaces!  Saturday morning brought a stream of panicked phone calls to Park n Party from fans on their way to the game expecting to park in their usual spots.  Instead, they were greeted by signs exclaiming "closed" or "full".
The short answer to the question, "Why should I reserve a parking spot ahead of time?" is: If you want to live the easy life, minimize stress and frustration, and not worry about where your going to park then making a reservation with Park n Party is the smart thing to do!  
Our Park n Party tagline is pretty concise, "Parking shouldn't be the main event!"
Tickets!  Parking! Fun!  If you found yourself scrambling for a parking spot last weekend, Park n Party is more than happy to make your next football game, baseball game, concert, or other event less stressful, more relaxing, and fun! Just find your favorite location on our website and reserve your spot today!