University of Michigan season ticket holders have begun receiving their 2016 Michigan Wolverine football season tickets.
With the excitement of receiving your football season tickets comes the anticipation of a new football season, now less than 30 days away!  Will this be the year Michigan defeats both Michigan State and Ohio State?  Will the Wolverines be able to travel to East Lansing and exact revenge for last year's unmentionable last second loss?
Who are the UCF Knights and can they play football?  These and many other questions will be answered in the months to come.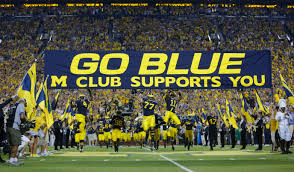 There is, however, a very important question that needs to be asked and answer right away.  Where will you be parking and tailgating for the 2016 University of Michigan football season?
A few Park n Party 2016 Season Parking Passes are still available, click here.  There are some great places to park for all eight Michigan football games this season.
New this season, Park n Party has a terrific selection of Tailgate Packages which include catered food, tents, chairs, and other tailgate equipment.  Not only is the food great, its very affordable too!  Park n Party can help you arrange your entire tailgate event.  Just give us a call, 888.926.7275!
There's little doubt that year two of the Harbaugh regime will be more exciting than the first!